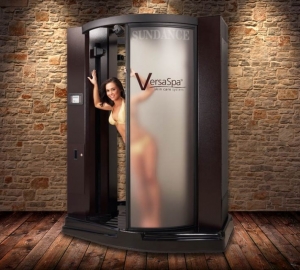 VersaSpa® Sunless Tanning & Skin Care System (Booth)
VersaSpa™ the world's first Patent-Pending HVLP automatic skin treatment spa, that combines healthy skin therapies with state-of-the-art comfort technologies. With an open design, no lingering mist and built-in blow dryer, customers can now feel relaxed, comfortable, warm and dry before, during, and after their VersaSpa® Sunless Tanning experience.
You will love our state of the art innovations like:
EZ-2Breathe
Produces a fresh, comfortable atmosphere through a built-in air purification column that draws impure air out of the booth during applications. Now you can breathe easy and eliminate the need for nose or mouth filters
Comfort-Dry
Leaves you dry after your spray application by gently blowing soft and refreshing air over the treated body area. No need to towel off after your session- simply step out of the VersaSpa® and get dressed!
Voice Automation
Walks you through your entire Spray Session with instruction like which position and when to switch your position!
The VersaSpa® provides two skin treatments.
World-Renowned Skin Bronzing Solution
This authentic solution combines a proprietary ratio of DHA and Erythrulose for an unmatched cosmetic skin bronzing performance. This unique combination ensures natural-looking, rich golden color
and longer-lasting results.

Anti-Aging Moisturizer
A multi-use rejuvenating skin therapy that evokes the youthfulness of skin, and is also ideal for both UV and sunless tanning.
Making an Appointment is not necessary.
Spray Tan Level 2 $25.00
Spray Tan Level 3 $30.00